Snowmobiling
Scroll down for more pictures.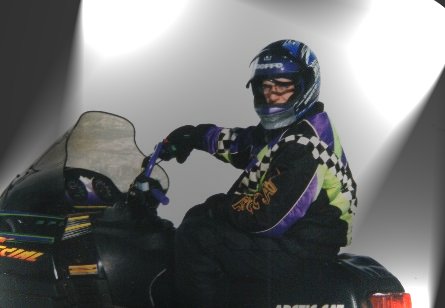 A Story that AJ wrote about snowmobling:
All over the USA snowmobiling is different. Such as in flat planes they race across on the flats in the mountains they hill climb. So that means there has to be many different types of snowmobiles. Not only are there different kinds there are different makes too.
Now I'm going to tell you about the four major snowmobile makes. There are Arctic Cat, Yamaha, Polaris, and Ski-doo. They all are pretty good snowmobiles. But people seem to have a favorite make. For example, my dad likes Arctic Cats and hates Polaris, but my uncle Arie likes Polaris and hates Arctic Cats. Some of the types are Trail, Race, Mountain, Powder, and Utility
There are various differences between the four. Arctic Cats have more of a rounded type hood and they get more power out of a smaller motor. They also don't have a Trailing arm. Yamaha's hood is more of a V shape and their motors last forever. Polaris is a more box type snowmobile with a good design for hill climbing. Ski-doo has a bubble type hood that won't break. They also get more power out of a smaller engine.
Snowmobiles are used for many different things. You could race them such as grass drags, ice drags, asphalt drags, mogul, poker runs, hill climb, oval, water cross, and many other types. Another use for snowmobiles is just for fun such sightseeing, hill climbing, and bragging rights. Yet another use is Work some types of work are trail marking, get firewood, S.A.R, and checking power lines.
Some places to going sliding (snowmobiling) are Yellowstone, Rebel Stroke, and Lake Tahoe. But there are many other places those are just the ones off the top of my head. You can go snowmobiling anywhere there is at lease 2 feet of snow.
Snowmobiling is a great sport to do I suggest if you having been snowmobiling to try it. Most people like it. But there is some that is just to cold for them.
| | |
| --- | --- |
| | |
| | |
| | A.J. showing off his jumping abilities |
| | |
| This is A.J. lining up for his first grass drag race | He came in third and one a trophy! |
| | |
| A.J. loved to hill climb. I don't think he got the high mark here. | This is near Mt. Stuart. We call it Gallagher, It is a great place to go hill climbing. |
| | |
| This is in West Yellowstone. A.J. is water skipping. He didn't quite make it | A.J. was an adventurer but he wasn't alone. He learned from his Dad and uncles. Seen here on one of their many snowmobile trips. |
| | |
| | |
| A.J. aslo loved to go Sledding | and Snowboarding. |
| | |
| I'm so glad that A.J. had the opportunity to see the beautiful sights that not many people are able to see. From breathtaking sunsets from a Mountain peaks | To beautiful scenery you see on the way up. |
| | |