Check out some of the work that AJ created.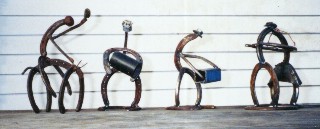 AJ wrote a paper about his life.
I was born in August 27 1982 In Ellensburg, WA. I have 2 older sisters and one brother. My oldest sister is married and has a new baby. My other sister works for Boeings in HR. And my brother goes to CWU and works at Campus U-Tote-Em. My dad was born in Moses Lake and moved to Ellensburg when he was little and lived her ever since my mom was born In Nebraska and when she was 6 moved to Moses Lake Her and my dad meet when he went to Big Bend at Moses Lake. They then got married and move to Ellensburg and bought a farm right next to my grandpas soon later 3 of my dads brother also bought farms my dad and grandpa. And the farmed together know my grandpa is retired and just but dad's brothers run the Family Farm. I have lived in the same house for my whole life. When I graduate from EHS I want to got UTI and become a diesel/auto mechanic. I would like to some day own my own shop in a town much like Ellensburg but in Montana or Wyoming. I have strong back ground in Christianity. I would love to race dessert trucks but will probably never happen. Actually I would love to race just about anything with an engine. At less that's my dream. As of know I work on my dad's farm and go to the H.S.
Book Report on To Kill A Mocking Bird
The title of this story, To Kill a Mockingbird, symbolizes several characters. A point is made that mockingbirds do nothing but sing their hearts out for us, and it is a sin to shoot them. Arthur "Boo" Radley, Tom Robinson, and Atticus Finch are three such "mockingbirds." "Shooting" or "killing" these people would only hurt one or more members of the community.
Boo Radley does nothing but sit at home and watch out for children, especially Scout. Near the end, Boo saves Scout and her brother Jem from an attacker. This is strange because of his shy ways. Atticus solemnly says, "'Thank you for my children, Arthur.'" He says no more because it might make Boo uncomfortable. Boo is mistreated because there are a lot of bad rumors about him due to some things he did as a young man. If women find out that he saved two children, they would all knock on his door bringing presents. This would expose him, thus "killing" him.
Tom Robinson is another "mockingbird." He does nothing but help people for free when they ask him. He only has one arm, but he is still a good worker. He is charged falsely of a crime, and is sent to prison. This basically "kills" him. He can never help someone again until he gets out of prison. Later he is shot trying to escape. The guards say, "'…if he'd had two good arms, he'd have made it…'" The community wastes a perfectly good helper.
Atticus Finch is yet another "mockingbird." When the court wants an experienced lawyer who might possibly win a case that seems impossible to win, they come to Atticus. He helps several people in Maycomb and earns their respect. Killing him or taking away his job would be disadvantageous to the community, especially the people he helped with finance problems. A woman by the name of Miss Maudie says,"'…we've got men like Atticus to go for us,'" whenever a problem arises in the community. A good lawyer will be lost for everyone that would ever need a good lawyer, as Tom did.
As stated before, Boo Radley, Tom Robinson, and Atticus Finch are three of the many "mockingbirds" in the story. They only "sing" for people and "killing" them would be a sin.
Andrew J. Dyk
Objective
To Obtain a part-time job and to obtain a degree in
welding.
Education
1996 -2001 Ellensburg High School Ellensburg, WA
2001-present Columbia Basin College Kennewick, WA
Work Experience
2000-2001 Huppert Farm Lawn Ellensburg, WA
Set-up & Delivery
- Delivered Lawn Tractors & small Farm Equipment
- Set up consumer displays
- Set up lawn & small farm equipment
- Service Farm equipment
1994-2000 CenterView Farms Ellensburg, WA
Farm Hand
- Operated harvest equipment
- Irrigated crops
- Operated tillage equipment
- Repaired small breaks
Volunteer Experience
Cascade Search & Rescue
Kittitas County Search & Rescue
Ellensburg FFA
Hobby
Snowmobiling, dirt biking, 4x4ing,
and building capable 4x4 vehicles
References
Duane and Arlene Huppert
Arlene Steinhardt
Roger Beckle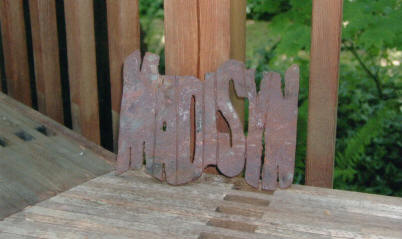 In October 2001 , AJ called Melanie and asked if he could make a door sign for his nieces. It was a requirement in welding class at college to make such a thing. At the time of his accident, this was found in his truck along with his welding supplies. He was in the process of making Madisyn's and had a computer drawing completed for Alli's.